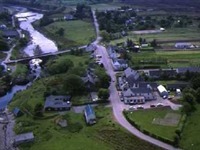 Covid 19
The Poolewe Hotel has the pleasure to announce that we are re-opening the hotel on the 3rd August.
In our hotel, our top priority has always been the safety, health and well-being of our valued guests. With the appearance of the Covid-19 pandemic, we have changed the processes that we have always followed, in that we enhanced and maximised the existing hygiene and safety measures, based on the protocols presented to us by the Scottish Government.
We understand that the hygiene and the social distancing measures concern every traveller, but we want to assure you that we have taken, and will continue to take, all the necessary measures for the protection of our guests and of our staff, and we are indicatively mentioning the highlights here:
Maintaining the hotels' occupancy at a safe level

Hand sanitization stations in all areas for the guests and staff

Transparent division panels between employees and guests at the reception desk and Bar.
We Accept payments from
Company Registration Number 08329040
Cancellation Policy
Bookings can be cancelled up to 1 day(s) and 21 hour(s) before 21:00 on the day of check in free of charge. Bookings cancelled less than 1 day(s) and 21 hour(s) before 21:00 on the day of check in will incur a charge of the first nights stay.
Guest Reviews
Poolewe Hotel (184 Avis Client) 95 %
Stunning location and interesting back ground history of WW2
Privacy and Cookie Policy
We would like to provide you with clear and concise information about the personal data https://www.poolewehotel.co.uk/ gathers, and exactly how you can view and control its handling.
On 25th May 2018, a new regulation comes into effect in the European Union, called General Data Protection Regulation. It provides strict and specific guidelines how personal data is collected and handled. This also affects companies and individuals that reside outside of the EU but collect data from EU citizens.
We completely agree that you should be able to see which information is gathered, why it is collected and how you can view it or opt-out altogether.
---
Please Read the Privacy Policy to ensure that you are aware of what information we hold.
Army discount available