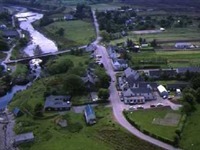 Things to do in Wester-Ross
Inverewe Gardens : The Gardens were founded and established by Osgood MacKenzie whose ancestor Hector Roy, was a direct descendant of King Robert II. They have over the years achieved international fame and renown.
Gairloch Museum : Presents a record of life in the area from pre-history to the present day.

Local Activities

Pony Trekking : Explore the rugged beauty of the coastline and gentler hills with Gairloch Trekking centre. Tel 01445 712652

Golf : The challenging links at Gairloch face across the sea to Skye, with the mountains making a spectacular backdrop.

Hill Walking : We are surrounded by an abundance of Munros. The Beinn Eighe National Reserve and the Torridon Forest are on the doorstep.
Fishing : The River Ewe and Loch Maree are legendary amongst anglers.

Touring : Take the car north to Ullapool. Or south to Torridon and Plockton, and explore at leisure the breathtaking sights of mountain, sea and island. Let us pack up a lunch hamper for you

Indoor Swimming : Poolewe even boasts its own, modern, indoor swimming pool, available throughout the year.
Norwest Sea Kayaking
Sea Kayak & Canoe on the Remote and Rugged Coastline and Lochs of North West Scotland. http://www.norwestseakayaking.com/
Bike Hire: Full or Half day from West Coast Biking, Kinlochewe,
© 2022 Poolewe Hotel,
Main Street Poolewe,
Poolewe,
Highland,
IV22 2JX,
United Kingdom