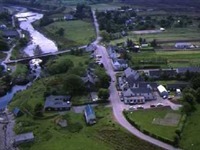 Things to do in Wester-Ross
Inverewe Gardens : The Gardens were founded and established by Osgood MacKenzie whose ancestor Hector Roy, was a direct descendant of King Robert II. They have over the years achieved international fame and renown.
Gairloch Museum : Presents a record of life in the area from pre-history to the present day.

Local Activities

Pony Trekking : Explore the rugged beauty of the coastline and gentler hills with Gairloch Trekking centre. Tel 01445 712652

Golf : The challenging links at Gairloch face across the sea to Skye, with the mountains making a spectacular backdrop.

Hill Walking : We are surrounded by an abundance of Munros. The Beinn Eighe National Reserve and the Torridon Forest are on the doorstep.
Fishing : The River Ewe and Loch Maree are legendary amongst anglers.

Touring : Take the car north to Ullapool. Or south to Torridon and Plockton, and explore at leisure the breathtaking sights of mountain, sea and island. Let us pack up a lunch hamper for you

Indoor Swimming : Poolewe even boasts its own, modern, indoor swimming pool, available throughout the year.
Norwest Sea Kayaking
Sea Kayak & Canoe on the Remote and Rugged Coastline and Lochs of North West Scotland. http://www.norwestseakayaking.com/
Bike Hire: Full or Half day from West Coast Biking, Kinlochewe,
We Accept payments from
Company Registration Number 08329040
Cancellation Policy
Bookings can be cancelled up to 1 day(s) and 21 hour(s) before 21:00 on the day of check in free of charge. Bookings cancelled less than 1 day(s) and 21 hour(s) before 21:00 on the day of check in will incur a charge of the first nights stay.
Guest Reviews
Poolewe Hotel
(185 Guest Reviews)
95%
3 nights single room
Privacy and Cookie Policy
We would like to provide you with clear and concise information about the personal data https://www.poolewehotel.co.uk/ gathers, and exactly how you can view and control its handling.
On 25th May 2018, a new regulation comes into effect in the European Union, called General Data Protection Regulation. It provides strict and specific guidelines how personal data is collected and handled. This also affects companies and individuals that reside outside of the EU but collect data from EU citizens.
We completely agree that you should be able to see which information is gathered, why it is collected and how you can view it or opt-out altogether.
---
Please Read the Privacy Policy to ensure that you are aware of what information we hold.
Army discount available